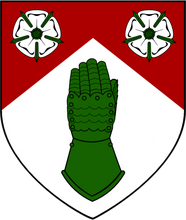 House Blain was a noble family hailing from Vaywood, a modern-day province of southern Asgarnia. It sired the short-lived Blain Dynasty of Falador.
Sources loyal to the house have claimed that their prominence dates as far back as the Seacloak Empire, the institution which laid the groundwork for, and eventually became, modern Asgarnia. Hrifswic Arnúnsson was a chieftain of the Veldenerii peoples who succeeded in uniting his and other tribes into a single kingdom. When others, like Krishna the Blackbeak of the east, followed suit, their clans rivaled Hrifswic's in size and majesty, and many wars ensued. Any Blain who earned the favor of the western chieftain would almost certainly have been a warrior, either an outrider or an elite bodyguard. However, only anecdotal evidence, from potentially biased sources, exists to corroborate this theory.
Ceogwa is the first Blain to appear in official documents. As a knight he commissioned the construction of the manor which would later become the house's first seat. He spent many years in debt, unable to pay the fees for the estate, but by the time he was raised to the peerage he had accumulated a small fortune by tolling the roads leading to Sarim, the province's most important port and trade-town. Thus, House Blain's affluence is known to have roots in robber-barony.
Image
Name
Titles and Epithets
Reign
Arthsenhal
King of Asgarnia Old and New

"Ingiof"[1]

"the Uniter"

"Blood-king"

"Scourge of the West"

0 to 27 BR
Weardsten
Emperor

"the Merciful"

15 to 41 ABR
Talac
Crown Prince
N/A
↑

A Dwarvish word of unknown origins. Literally translating to "thief," the subjugated Dwarvish peoples of Asgarnia used it as a lowbrow insult until Arthsenhal himself adopted it as a term of endearment.